Cost Benefit Analysis of Ethanol as a Household Fuel
Client- Practical Action Kenya- 2013.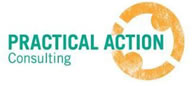 The research report assessed the potential production and purchase of ethanol as a household cooking fuel in Kenya. The findings were used to inform all relevant stakeholder, including policy makers, donors and private sector actors on the economic viability of producing and selling bioethanol as a domestic cooking fuel in Kenya and further provided recommendations on what fiscal, revenue and legal strategies that would be required to enable a sustainable household cooking bioethanol market.
---